I was looking in my stash, last Sunday, and came upon this pattern:
I've never made a Butterick pattern and I vaguely remembered that PR was having a
New To Me Pattern Co contest
. My mind went, immediately, to the fabric in my stash and I remembered a cute, floral, poly/cotton blend that I purchased years ago for summer skirts. I probably have 4 yards of the stuff and no other plans for it.
Then, on Monday, I checked the PR contest board and saw that their deadline for contest entries was in 5 days. 5 Days!!! This pattern is rated as "Fast & Easy" so, I said to myself, let's see how fast it really is.
Monday
- Thankfully, before I started any work, I read all of the reviews on this dress... and there are a load of reviews (
check them out
). They all had the same issues with the pattern so I was well prepared to jump into this project. My one big hesitation was that neither the envelope nor the tissue has any finish garment measurements. This is how I choose what size to make. None of the reviews mentioned this, that I recall, so I measured the back bodice piece. I was amazed that I would need the next size up as well. I take a 14 for the bust (the pattern that I have) and a 16 for the waist (the next package size up). Ugh! Time to make a muslin. Well, the first thing that I did was add a strip of fabric to the front and back bodice/wrap areas so that it would be able to close. My waist size fluctuates a good bit so I wanted a nice adjustable overlap.Then I cut a wedge out of the front to give more of a vintage V shape (instead of the U shape). With the muslin finished, I flat-felled the seams where I added fabric and decided to use this as a full lining.
Tuesday - Using the muslin as my new pattern, I cut my floral fabric and assembled the dress. Since I'm particular about darts, I sewed those by hand.
Wednesday
- I had planned on just hemming the edges and not binding them but I changed my mind and decided to make binding tape with more of the white muslin that I used for lining. I also hemmed both the front and back. For hemming the back circle skirt I used
this method
. To finish it all up I added decorative buttons and hook and eye for easy and quick waistline adjustment.
Well, I made the deadline and here is the dress:
I think that I will add more buttons and wow, look at that hemline in the bottom picture, it definitely needs a hot iron. Lol
I'd love to have a dozen of these for summer. Now that I have the kinks worked out it shouldn't take any time at all.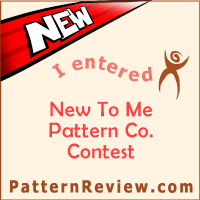 Note to self: Pick up more of this pattern on sale so you can cut the pattern tissue. Don't bother tracing the pattern, it would take too long and use a lot of copying supplies. Also, research period undergarments. I'm sure the corsets/girdles of the day made a huge difference in proper fit and shape.

3/25/2014 Update - I came in 31st out of 44 entries. Lol, 12 people cast votes for this dress. I don't feel bad at all. There were a lot of very beautiful items made for this contest. One item that I was surprised to come ahead of was a beautiful vest. She should have come ahead of me. I'm grateful for this project because it was part of the kick-start that I needed to get into sewing this year.