Strawberry Blossoms & Unripe Fruit
With so much crazy sewing in March & April, I wanted to take May easy..... let's see if I can. From the list below you will see that I'm looking at two UFOs, a summer dress and weekly scrap busting.
~ ~ ~ ~ ~ ~ ~ ~ ~ ~
The first thing that will be on my mind has nothing to do with sewing... it's all about wearing those gorgeous pieces that we already have... it is
Me Made May 2014
!!!! I'll be posting weekly updates of my progress (hopefully). Let me know if you are too so that I can follow you. :)
~ ~ ~ ~ ~ ~ ~ ~ ~ ~
Project Sewn has announced their themes for their next season... starting April 21st. Here's what they are proposing:
~ Week #1 (May 5th):
The Leading Ladies Challenge
--- This is a skip for me.... sorry, not much of a tv or movie person.
~ Week #2 (May 12th):
Floral Frenzy Challenge
-- Of course I will have to share my new floral peplum top.
~ Week #3 (May 19th):
Going Global Challenge
--- I'd love to make a
qipao
but I really don't have the fabric or pattern for it. So this is another skip for me.
~ Week #4 (May 26th):
Signature Style Week
--- I should really finish my grey silk/wool striped skirt and showcase it with my pink silk chiffon top. That outfit is totally me.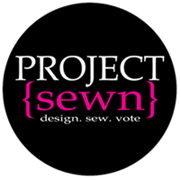 ~ ~ ~ ~ ~ ~ ~ ~ ~ ~
The Monthly Stitch
is having a
Sew Stretchy Challenge
and I have a baby blue knit dress that's hanging in my closet as a UFO.... What a great time to finish it. I was a silent participant in April's Sew Double Challenge..that is, I made doubles of things but never posted them to their group. Let's cross our fingers that I can do better and actually share my finishes this month. :)
~ ~ ~ ~ ~ ~ ~ ~ ~ ~
The only thing that I had planned to sew in May is this cute summer dress....
Butterick B5917 Ruffle Dress
from this ultra light weight wool...
As you can see I had paired it with this Simplicity pattern but after making my
black linen skirt
in March and the
burgundy one
in April, I decided to switch up.
~ ~ ~ ~ ~ ~ ~ ~ ~ ~
I'm sure that I'll have something to post for the Garment A Month Challenge. It has really been a lot of fun sharing what I'm making and seeing what everyone else is doing.
~ ~ ~ ~ ~ ~ ~ ~ ~ ~
I've also been having fun with my Scrap Basket Sunday link-up. You are more than welcome to join. I'd love to see what you can craft out of your scraps.
So that's my plan to keep May simple... wish me luck.
What are your plans? I'd love to hear all about it.