I know that March isn't over yet but there is just so much going on in April, I can't keep it all in my head. I have to write it down. So here goes:
Challenge Create: Adult Edition
is a 4 week challenge.... It's calling me. Anyway, I keep wondering if I really want to do this challenge, as a sew-along, and I keep "having" to visit their page to read and re-read the themes. So, instead of doing that, I'm going to just keep track of things here:
Week 1: Nature Inspired - I'm leaning toward a purse made from a beautiful purple and blue floral scrap. (
here
)
Week 2: Refashion - There is that curtain panel that has been begging to be a peplum top... but I'm sure there is just Not enough fabric for it. (finished the
curtain refashion
and a
skirt refashion
)
Week 3: "Hint of" Vintage - Hmm, maybe this fits right in with my already planned outfit for the month?? I'll be posting about that later.
Week 4: De-stash Time - I do have a cute plaid that would look great as a skirt.
Now this is a 4 week challenge that starts on Monday March 31st and goes until Sunday May 3rd... but I'm a bit confused because that's 5 weeks??? Oh well, I'll just have to wait and see what's going to happen.
Sewing Double Challenge
from
The Monthly Stitch
. That's an easy one. You just sew two of something or a second of something that you've already made. I was going to sew cloche hats but now I think that I'm just going to wait and see if anything comes up on it's own... as things seem to do with me. :)
~ ~ ~ ~ ~ ~ ~ ~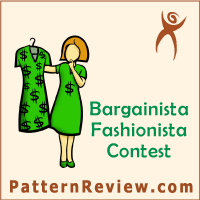 Lastly (or perhaps it's not really lastly, another challenge may come along),
Pattern Review
is having their
Bargainista Fashionista contest
. Basically you are going for a designer nock-off.... but I may do a designer inspired piece. I'm thinking about a cute plaid (mentioned in the week 4 de-stash above) that would look cute as a jagged-front, asymmetrical skirt that was all the rage last summer. Amazingly enough, I can't find it anywhere now that I actually want to know what it's called and who made it. Lol, figures!
~ ~ ~ ~ ~ ~ ~ ~


Make A Garment A Month challenge
that I just found. (See, I knew there would be another one sooner or later) Really, If I can accomplish those challenges above, this last one is already finished and just becomes a relaxing time of sharing... Aww, that sounds really nice!
I suppose that I should plug my own challenge as well. This one is another easy, peasy one. Take 30 minutes each week and make something from scrap fabric.... I have a huge stash that needs a trim. :)
~ ~ ~ ~ ~ ~ ~ ~
I'm exhausted from writing/reading this post. I guess my sewing frenzy has begun anew for this year. My biggest problem now is remembering that I Don't Have to participate in any/all of these if I don't want to. but, but, but, they offer so much motivation and inspiration.....
Happy sewing to all of you!